LONG LANE BEYOND THE PLEASURE PRINCIPLE
The people here are in a desperate state, although it's difficult to tell what exactly they are desperate for. Usually there is some ostensible reason why a young man might cry his heart out in a doorway – or why a woman might lead her partner about on a leash. There are too many whys and wherefores these days which are little more than vague gestures than real questions seeking out an answer. There are too many unsolved mysteries that double, treble, quadruple every day. One doesn't wonder if people don't unconsciously desire to be perplexed, acting in the strange ways they do. But there's literally no good reason for being in Long Lane; this is the place people go to get beyond the pleasure principle. People's behaviour doesn't mean anything here. Not even a scream has meaning.
People only ever cry out for something. You cry out for help. You cry out in pain and you cry for joy. You cry in both orgasm and mourning. In Long Lane however, something highly unusual has happened to the normal sequence of the cry inasmuch as here, people cry for nothing. This 'cry-for-nothing', harmless as it sounds, signifies nothing. You cannot hope to find out what it means, and if you catch yourself doing it, you're done for.7
Cries-for-nothing
1# Man in doorway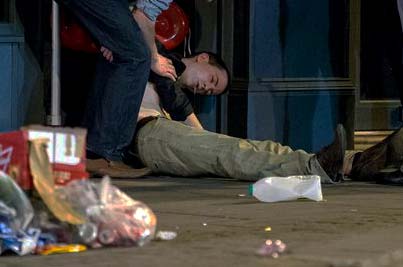 This first recording is of the aforementioned young man in the doorway of a closed charity shop on Long Lane. You might think he was drunk or something, the way he lollygags on the pavement staining his trousers in phlegm, but you would be wrong. There is no reason for this behaviour. This man is in an abyss. From a distance, the sounds he makes are indistinguishable from those of a person in deep misery – indeed, all the sounds are correct, but the content is entirely missing. I listen several times to the recording of his 'voice' and find the sounds I interpreted initially as abject misery are in fact nothing of the kind – there are no words, ideas, concepts - and therefore no meaning to his cries. It is a cry-for-nothing.
#2 Male voice from above
The second recording came out of a first-floor window further down by the junction with Wild's Rents – a nondescript cobbled street with a gourmet food shop on its corner. This batch of noises are far more terrible than the first but alas, just as meaningless. I try to picture the person up there in that room above the shop, grunting and snorting until he practically vomits. It can only just be described correctly as a human voice.
Looking at the deli-style menu outside the shop, I am puzzled as to the fare on offer here.
I speculate momentarily on the possible connection between the sounds and the menu, but think better of it and move on. In this instance, I am glad for the cry to be meaningless. I rush back to the complex delta-like junction spews its nonsense all over Borough High Street like an ill mouth.
#3 Man on leash
This whimpering and grunting animal has been clumsily dressed in a suit by his wife who, in a crude effort to provide him with a familiar identity, has revealed her denial about her husband's metamorphosis. It may be that this man-thing can only get around anywhere on a leash, perhaps due to laziness, idiocy or lack of motivation, but whatever it is he has become entirely dependent upon his wife for survival. Were she to abandon him he would no doubt turn feral and run wild all over the area, posing a threat to husbands and other dogs in the neighbourhood.
CADE, 2013