M25 ORBITAL
#1: M25, Potters Bar
At a petrol filling station, dismembered pieces of different dogs are found in the forecourt. When reassembled, The total quantity of pieces found are equal to one whole dog, albeit one of differing breeds. The police fail to attend the scene despite numerous calls for no reason whatsoever.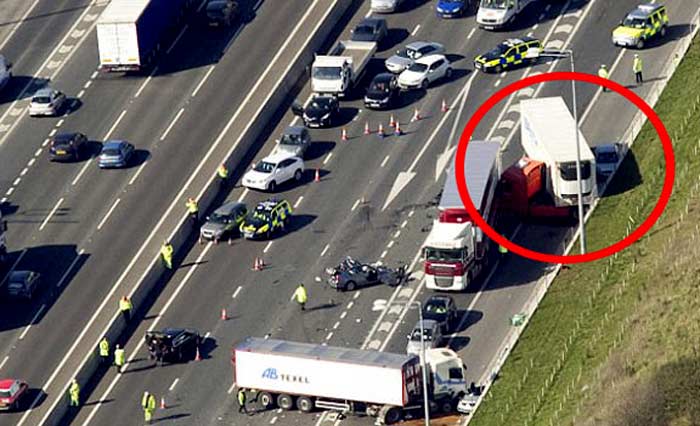 #2: M25, Junction 11
A pack of 30 or so Alsatians are involved in a high-speed game of chicken with supermarket lorries inbound for London. The pack appears to have learned how to evade lorries at the very last moment, causing the driver nine times out of ten to swerve the lorry and crash into the hard shoulder. They then gorge themselves on the foods which fall out of the crashed vehicle, eating until they are sick and laying about like drunkards.
#3: M25, Rickmansworth, Farley Golf Course
A multiple pile-up occurred after a pack of mixed-breed feral dogs and their puppies ambushed a crocodile of twelve school children at a zebra crossing. Captain Daniels of Watford C.I.D. described the event as "entirely meaningless." His statement goes on to become the headline of several local newspapers the next morning and the phrase then goes viral on various social media websites where its spread grows exponentially.
#4: M25, Loughton
A Tescos depot was overrun by a super-pack of dogs of all varieties. Several explosions were heard, and the sound of howling dogs injured in the resulting blast caused local residents Norm and Sue Davies to pull their own heads off. The surviving dogs headed in the direction of Epping Forest where it is believed they are living in a vast subterranean burrow-network which is kept heavily garrissoned 24 hours per day.
#5: M25, Junction 29, Southend Arterial Road
Dens of as many as forty canines each have been found in houses that until only recently were occupied by normal people. A rim of such empty properties borders the orbital road as far south as the derelict aerodrome. "With these large expanses of delapidated houses and local businesses too," said local businesswoman Cheryl Oyrtuvsmdppgsued of Romford Business Forum, "only the much-needed regeneration of these areas is likely to keep the dogs at bay. The government has given a green light here for dogs to move right on in."