SHADOW HOMES
Fire Brigade "Couldn't Care Less" About London's Shadow Homes
(news clipping from CADE's collection)
Thousands of people in London are living in 'homes-within-homes' – often in dangerous conditions – just because they feel like it.
Our reporters found people paying to live almost anywhere; on abandoned industrial estates, underneath piles of garbage and dead dogs – even inside other peoples' bodies.
This 'shadow' housing market – as it is now being called – is causing the London Fire Brigade to "pull their own heads off".
***
#1 'Shit'
Carlos moved to London from somewhere else four years ago in search of a better life for his two teenage daughters. But he was wrong.
Now all three share a cramped room with innumerable packs of nomads above a car repair shop on some industrial estate in north-west London.
The transient residents, who are impossible to count because of their continual migration, share three tiny rooms and a kitchenette, while mechanics work on customers down below with picks and shovels. The owner of the building, Jonathan Profits, said he needed to keep the nomads in a constant supply of raw meat, otherwise who knows what they would do.
Carlos' daughters, now aged 18 and 21, never sleep but instead just watch their father all day long with impassive expressions. He worries about them sometimes. He thinks they might be going mouldy.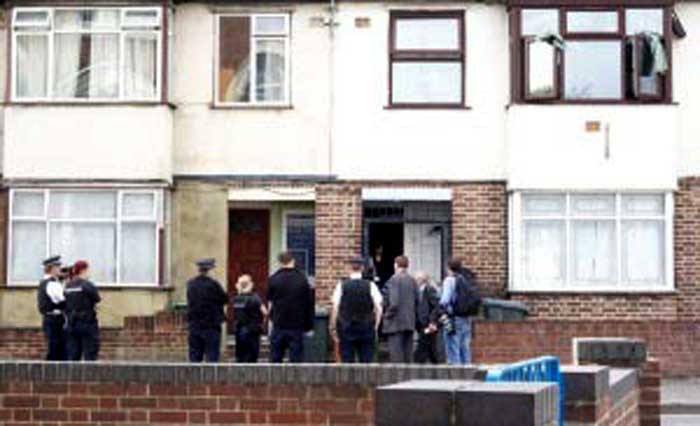 ***
#2 'Fun'
Tim Awful, enforcement manager for Hackney Council, told us that homes hidden away inside other homes were his favourite part of the job. When he can be bothered, he and his team of volunteer 'Enforcement Officers' crack-down on these "beds in sheds" as they are affectionately called, just because they can.
"The uniforms get us in anywhere" he said.
Information almost always comes in the form of tip-offs from civic-minded neighbours living in real houses nearby, but sometimes, he admits, it is purely fabricated.
"Anonymous notes don't need to be forged" he said.
Thousands of letters are either received, recycled or produced at the enforcement office every day – too many to ever read or organise – and 'enforcement officers' are constantly tunnelling underneath mountains of paperwork just to get out of the office to do some enforcing.
"The best part about investigating this type of accommodation is that none of it really exists. The people living in these places – if you can even call them people – are usually vulnerable and most of them don't even speak proper. But that only makes it easier and more amusing to throw them out."
***
3# 'Escape'
But it is not just nomads and émigrés who find themselves in squalid living conditions. Anyone can do it if they really try.
For almost a year Babs, 24, lived in the Thames – paying £250 a month for nothing whatsoever.
She came to London looking for work in the television industry just like everyone else, but the friend who offered her a couch to sleep on suddenly capsized, leaving nothing but a big hole in the ground where her house used to be.
"It was as if she just tunneled her way out" she said.
Her landlord said he was working to improve living conditions in the Thames, even though it wasn't true. He was delighted that the river could offer people "nothing whatsoever when they could afford little else".
***
#4 'Beyond Good and Evil'
Isobel, 28, doesn't care about anything.
In Hackney Wick, under the malevolent shadow of the Olympic Stadium, dozens of former factories and warehouses now house what is said to be the biggest nomad swarm in Europe.
Like Isobel, the residents are attracted by small things, like the way a woman walks along the street with a blue plastic bag, trying to get home to her child.
"I do feel something, but I don't know what. Does it matter?" she said.
Isobel says she has no permission to live where she does because it doesn't mean anything. But our reporters spoke to people who lived in buildings where landlords had ruthlessly created 'hidden homes' – right inside other people's houses.
"The building was so badly maintained because it was all made out of newspaper" said Alexis, 32.
"The apartment I was renting was inside someone else's living room – and they didn't know about it. But it wasn't just me. There were twelve other apartments nested right inside the main house. We had to dig tunnels to get around because nobody had a key to the front door."
The owner of the building told us he would eat anyone he found living there.
***
#5 'Council'

The Minister for Housing Christopher McInterest said he had a lovely house with walls and everything.
"I'm giving myself a bonus." he said.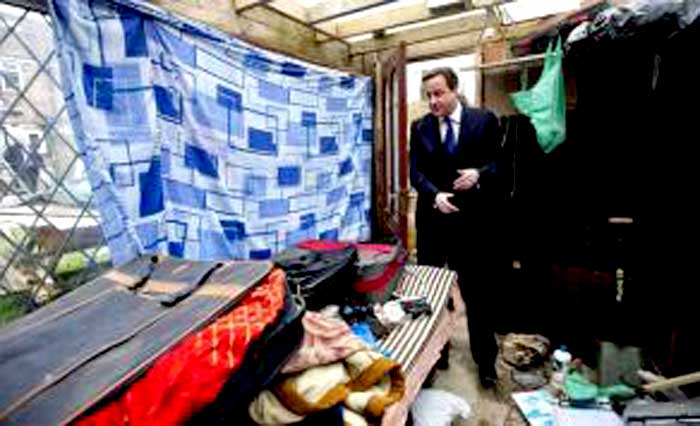 But Brigitte Assets, the deputy commissioner of something or other, believes the problem will go away by itself if she stops thinking about it.
"Fundamentally there are many, many people looking for places to live in London, but that's not my fault."
Some names in this article have been changed, as well as all of the facts.