[dis]CORPORATE BODIES #14
UNsoc Edition: The Dismal Machines of Late Capitalism
~ curated by The Unstitute ~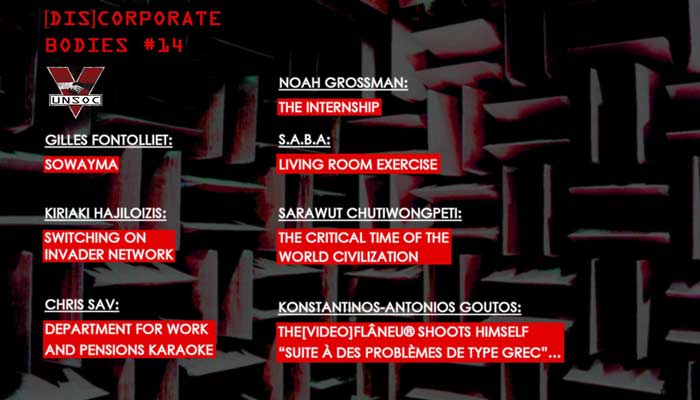 Spontaneous, uncoordinated micro-demonstrations irrupted all over The Unstitute today in an impulsive uprising within the reality-producing Machines of Desire. Anticipation of a New Path for human social relations collapsed into intolerable dread of its manufacture. Modes of capture proliferated. The authoritarianism of the mass attention-span gave rise to nostalgia and ennui. It was UNsoc. But practitioners did continue to report on prospects of other ways out. And other ways in, depending upon which way you looked at it.
Presented in this edition of [dis]Corporate Bodies are a disparate set of social ecologies, ideologies, realities. No clear direction is given. Much is prone to error. The ambiguities of social interations are the rich field of interpretation.
---
GILLES FONTOLLIET
Lives and works in Zurich, Switzerland
SOWAYMA / video
SOWAYMA is a small village, 400 meters below sea level in the Jordanian desert. I somehow ended up in this village a few years ago and since then I have visited it over and over again. Whenever I was there, people showed me photos of themselves, which they had taken years ago in the capital. But there were also many people who owned no photographs of themselves. Last year I set up a photo studio in the village and began to take pictures and printed these images for them immediately. I filmed these improvised self-portraits with a video camera. The video documents how people use the opportunity to have a picture taken of themselves.
These improvised self-portraits I filmed with the video camera. The video documents how people take the opportunity to have a picture taken of them. For many the first and perhaps only picture of themselves in their lives.
Gilles Fontolliet (*1981 in Thalwil, Switzerland) is an artist, art educator and avid traveller. Travelling being a crucial part in his artistic process, he has worked in a number of different countries in recent years, including Algeria, Jordan, Lebanon and Burkina Faso. Without preconceived notions Fontolliet encounters people, objects and situations and is often confronted with political issues abroad, all of which ultimately transpire in his work. He works within the community, with the resources of the people and with situations that he and they find themselves in at a particular moment in time. Their stories, ideas, dreams and concerns serve as the main inspiration for the shape and content of the final pieces. In his artistic expression Fontolliet constantly moves on the borderline between participation and observation, objective distance and active involvement, exploring the limits and possibilities within unforeseen situations and encounters, between the "self" and the "other", between personal relationships and larger political issues. Fontolliet works with a range of different media that include photography, video, text, collage, performance and installations. Besides his work as an artist, he also teaches art and art theory in public schools and other institutions in Zurich. He enjoys pasta with garlic, being on the road, the smell of sunscreen and black coffee. When he is not out exploring the world he lives in Zurich, Switzerland.
Gilles Fontolliet graduated from the Zurich University of the Arts (ZHDK) with an MA degree in Art Education in 2010. He has since received artist residencies in Jordan (2011), Lebanon and Palestine (2012) and Croatia (2013) which resulted in presentations and group and solo exhibitions at Darat al Fanun in Amman, Zico House in Beirut and the Academy of Art of Palestine and Al Mahatta Gallery in Ramallah. In addition, he has shown his work in several group and solo exhibitions in his home country of Switzerland in exhibition spaces such as Transform, Berne (2012), Artbox, Thalwil (2013), Grand Palais, Berne (2013), Helmhaus, Zurich (2013), Lokal-int, Biel (2014), Kunstzeughaus, Rapperswil-Jona (2014) and Dienstgebäude, Zurich (2014). In 2013 Gilles Fontolliet received an Art Stipend from the City of Zurich and was invited to participate in the 30th dokfest in Kassel, Germany.
In March 2015 he was awarded the Arte Laguna Prize for Video & Performance as well as the special prize Art Nova 100 in Venice, Italy.
---
KIRIAKI HAJILOIZIS
Lives and works in Nottingham, UK
SWITCHING ON INVADER NETWORK / video
Switching on Invader Network is a video based on my personal experience of post-colonialism. The video consists of a disjointed collage of news-reports from the 1970's, juxtaposed with personal family footage, some taken from family archive and some of my own, taken when visiting the occupied cities of my 'home'. The video is supported by a rhythmical soundtrack from the same news reports and Internet YouTube footage of cartoons from my mother's memory plus sounds of broken machinery. I have built my work to portray disruption, blockage, corruption and exile. I am creating a barricade of information, as though the video is broken, similar to the Cypriot crisis and how the island and my family are fragmented. The video is based on a story of turning on the TV to be reminded of the memory the cartoons bring, corresponding with the political memories they trigger.
"Born in the UK to Cypriot refugee parents, I grew up constantly questioning where friends and family had come from. They identified with a homeland that they were exiled from, but I was born in the UK - so we are a divided family, separated geographically. So where is my home? The UK or Cyprus? I live physicaly and emotionally somewhere between the two. 1974 illegal Turkish invasion of Cyprus and its subsequent effects on my identity and me is my subject, which informs the video works I make. My aesthetic is focused primarily through the means of video art with subjectivity on the home of the dispossessed. The control of video and film conveyed my message, of refuge and political combined with personal memory. The video is a tool of visualising the attempt of trying to remember a memory I don't have. My screen constructs the memories. I have built my work to portray disruption, blockage, corruption and exile. I am creating a barricade of information, as though the video is broken, similar to the Cypriot crisis and how the island and my family are fragmented."
---
CHRIS SAV
Lives and works in Brighton, UK
DEPARTMENT FOR WORK AND PENSIONS KARAOKE/ video
My practice explores failure, language and social structures through the mediums of performance, film, and text.I make performances, music videos and sound pieces that deal with ideas of hopelessness and existential anxiety by using different characters and props. The characters' limits, the rudimentary nature of the props, and my own inability to successfully produce a three way vocal harmony, all work together to present the search for meaning, and the failure therewith.
My work references pop culture, using current phenomena such as broadway musicals, boy bands and YouTube videos to critique and play around with the structures and ideas that provide meaning. Humour plays a big part in this, and is very much at the centre of my practice. Through presenting absurd situations, it allows me to undermine them and further uncover the inherent absurdity within everyday life.
---
NOAH GROSSMAN
THE INTERNSHIP / video
I often start my work by thinking of a visual punchline or gag. Building the joke around it means creating a visual language that will carry viewers towards it. Hopefully, what started as a half-baked phrase or moment of slapstick becomes a dimensional narrative.
I'm currently working on two series of work - the first one, called "Meanwhile, In the Midwest" is a meditation on what it means to go to a school in rural Ohio filled with wealthy east and west coasters. Is it possible to live in Oberlin, Ohio but never truly leave New York or Los Angeles? This is a scary prospect to me, so I decided to immerse myself in the aesthetics of the midwest. My pieces explore the landscape as a transient place, a place of "meanwhile".
My other series is a group of videos which explores "cultural absorption" - the tendency of mass culture to hunt counter-culture and refashion it as mainstream entertainment. I am fascinated with this process as a social phenomena and as a problem for artists, because it begs the questions - how, as an artist do I avoid the charge of my message being destroyed by the magnet of mass culture? For me, the answer is something I call Cultural Counterfeiting.
Similar to the counterfeiting of currency, Cultural Counterfeiting means appearing to invest in the aesthetic and sensibility of mass culture while secretly corrupting it from the inside. Only by disappearing into the void of American entertainment can artists avoid the toxic sweep of cultural absorption. I practice this by making animated videos that center around music genres long thought to have lost their counter-cultural clout, and explore why.
---
<
S.A.B.A [Silvia Amancei & Bogdan Armanu]
LIVING ROOM EXERCISE / video
Live and work in Iasi, Romania
Acknowledging the precarious context of life we, Silvia and Bogdan, start exercising the idea of socialism and build on it the Future within the limited and hidden space of the living room.
S.A.B.A, Silvia Amancei and Bogdan Armanu, are an artistic couple living and activating in the city of Iasi, Romania.
Born in 1991, after the fall of Romanian Communism, therefore we have never had a direct relation with the communist ideology and way of organization. During our childhood, like many others, we have been exposed to diverse forms of nostalgia triggered by the precarious condition of life during the so called transition towards the complete democratic / free market.
When we developed a political identity we already knew that the promises of capitalism are unfounded and that the future of too many is darkened by instability and minimal subsistence.
Both unemployed, at least not in the form that we would like to be, we activate as independent artists, working with the issues triggered by the new paradigm of life exploitation. We feel the need of change and would like to put a shoulder to the materialization of this much needed movement, at least through the means available for us, i.e. questioning, underlining, sharing, so on and so forth. Unfortunately, most of the time we come to a negative conclusion regarding our future, both as individuals and society / community.
---
KONSTANTINOS-ANTONIOS GOUTOS
the[video]Flâneu® shoots himself "suite ŕ des problčmes de type grec"… / video
"According to the French newspaper Libération, Mr. Godard sent a fax to the [Cannes] festival's director, Thierry Frémaux, saying that "problems of the Greek type" ("des problèmes de type grec," perhaps referring to Greece's financial crisis) had prevented him from attending and that he would go to his death for the festival, but not one step more: "Suite à des problèmes de type grec, je ne pourrai être votre obligé à Cannes. Avec le festival, j'irai jusqu'à la mort, mais je ne ferai pas un pas de plus. Amicalement."
Jean-Luc Godard.
nytimes.com/2010/05/18/movies/18cannes.html

...the same time,
konstantinos-antonios goutos / the[video]Flâneu®;
[greek origin and as film director educated]
creates a new [mediter]irrational and allegorical [video]work (or performance..?:) and dedicates this work to Jean-Luc Godard...

a self portrait of the[video]Flâneu®;
an [un]usual meeting with himself
taken [like always] without purpose or plan
in enschede [nl], april 19, 2010 at 6.12 p.m.
with a normal digital video apparatus

without tripod
without camera moves
without zooming
without special lighting
without extra microphone
without effects
the sound and the length of the shooting is the original
there are no cuts between the scene

[sculptural work: "excalibur pretending"
artist: alwie oude aarninkhof, 1986]

[video]Flâneu®: konstantinos-antonios goutos
mini dv, colour, sound, 16.03 min © 2010
---