'ZINE #02
Coded Language
July 2017
In this month's 'Zine we introduce the new Artists' Writing project #Strategies; encounter a female-only oral language from China which has paradoxically enslaved its women speakers in The Projection Room; watch as an everyday computing error code becomes encrypted by reverse technological process in UN[dis]criminate, go on a virtual detournement around the online settlement of New Town and speculate on the sinister vegetable takeover of the population; you can gaze absentmindedly for a minute out of two new windows which have now opened in the Vidiot experiment - one in Peru, one in India; and there's an even greater variety of Open Submissions for digital artists to contribute to the growing architecture of The Unstitute...
---
- THE PROJECTION ROOM -
Furen Dai
Language Product

This month The Unstitute is delighted to present the excellent part-documentary/part surreal video-construction Language Product by Chinese artist Furen Dai. Dai has extensively researched into the history of the Nüshu language and has incorporated a female language of her own into the unique plight of the Nüshu speakers, trapped by the private language they invented to both escape tyrannical patriarchs and to tell their own narratives.
"Furen Dai's video work began with her research on the secret women's language called Nüshu, which was originated and developed as a secret code among women in Hunan Province, China. Through research she discovered that though the language has lost its functionality, women who know the language have been pressured into performing their cultural activities as entertainment for tourists for menial wages. She has presented a language factory in her video and the act of producing secret women language as art object to sell to people who don't have access to the meaning of the language." - Furen Dai
+Artist's Q&A
If you're interested in reading more about the Nüshu language or Furen Dai's odyssey in creating this video, you can read an in-depth interview we conducted with her in cyberspace; click the link below to read...
---
- #STRATEGIES -
Dawn Woolley
The Political Economy of Misunderstanding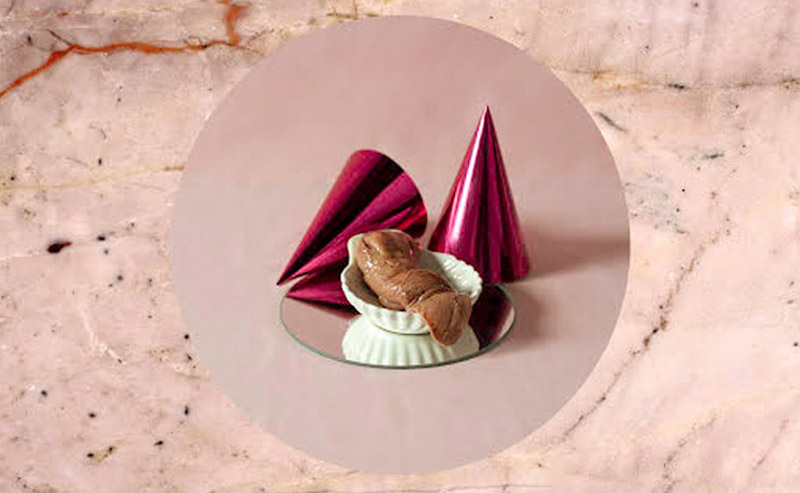 This month we are proud to announce the launch of our new artists' writing participation project #Strategies. Housed in the recently renovated department of The Unstitute known as the Liebratory, the project aims to curate and assemble an archive of experimental texts to be distributed via our monthly e-mail 'Zine to share with the growing digital community connected to The Unstitute. We are proud to announce our first text comes from longtime collaborator Dawn Woolley who delves into the semeiotics of a feminist surrealism...
"In 'Mad Love' André Breton describes a shopping trip to a flea market in Paris with Giacometti in which they select objects due to some sort of unconscious pull: 'the two objects, which we had been given with no wrapping, of whose existence we were ignorant some minutes before, and which imposed with themselves this abnormally prolonged sensorial contact, induced us to think ceaselessly of their concrete existence, offering to us certain very unexpected prolongations from their life.'" - Dawn Woolley
#Strategies is our new online lab for writing which offers a platform for writers to submit text which demonstrates strategic thought in contemporary creative practices; click through to read more...
---
~WORLDS~
The Unstitute presents...
New Town
Explore Trail #2: Faulty Forms - a crude path carved into the unexplored territories of our new virtual environment of New Town. The research conducted by our two clandestine agents grows more prosaic and detached as time goes on, and there are fears that at least one agent is becoming some kind of vegetable. Everyone at The Unstitute is now concerned that, if they spend too long in New Town, they might cease their ambulatory existence and become merely part of its description...
"The edge of my carpet is where I see my future. I shall retire there someday, someday not too far-off. I have already drawn-up plans - " Antonio 'Toni' Vodka
Come explore our new web-based interactive narrative, in which topography, fantasy, mythology and technologically augmented experience come together to create a new virtual world in the Web: New Town
EXPLORE TRAIL #2: FAULTY FORMS
---
~UN[dis]CRIMINATE~
Tom Estes
Archive Fever
The UN[dis]CRIMINATE encampment extends into new territory this month with the creation of Site 2 with artist Tom Estes, whose video Archive Fever pushes the existing concept of the encampment into the area of recording, errors and entropy in which a common-or-garden error-code generated by a computer is transformed through laborious manufacturing processes to become another piece of waste, indiscriminate in the flow of the river Thames.
"Archive Fever engages in the obsessive and electric intensity of attraction-unto negligence within a luminous atmosphere of inventive magic. Wry, touching and finely rendered, yet reminiscent of degenerates and suspicious characters, the work charts the sensuous and unbelievable strangeness of intimacy within the backdrop of urban alienation." - Tom Estes
UN[dis]CRIMINATE is a new archive exploring artistic attitudes to the seismic shifts occurring in geopolitics, technology and cultural narrative. Come into the temporary encampment to investigate for yourself, and consider submitting relevant content of your own...
ENTER UN[dis]CRIMINATE SITE #2
---
- THE CUTTING ROOM -
The Unstitute presents:
Delivery
Digging back into the archives from 2010 our curators discovered this early experimental video [of a video]. Probably made somewhere in the former Soviet bloc, a chess game unfolds across vast distances and terrains; a hooded, faceless character crosses swamp and mountain to deliver his move to the confined self trapped in a cellar.
"Delivery shows the production of a synthetic universe in which contrived scenarios, filmic devices, edits and sound loops constantly refer back to the process of 'reality production' and the parameters by which individuals engage in producing images." - The Institute of Film and Video Studies
---
- VIDIOT -
New Windows
The Unstitute is pleased to reveal two new video windows looking out onto quite different places, by artists Mauricio Sanhueza (Peru) and Biswajit Das (India) from which you can spend a minute absentminded window-gazing.
"The Unstitute is an excavation without windows. The Vidiot Windows project connects windows from around the world through which visitors to The Unstitute can look out onto different everyday scenes through their browser window, collapsing frames of space and segments of time into a room constructed entirely from looking panes." - Vidiot curators
The Vidiot project invites you to send your 1min videos to aid in the construction of an architecture built entirely from windows.
---
- PARTICIPATION -
Open Submissions
The Unstitute offers the opportunity for artists to take part in our experiment through a progressive community alliance in which we mutually advance the possibilities of the browser-based digital experience as a medium for the artist. We do not offer a traditional gallery experience for the artist or the viewer - we are incubating a hybrid, experimental model of artists' community with the time, energy and integrity required for such a project.