'ZINE #05
Points of Departure
October 2017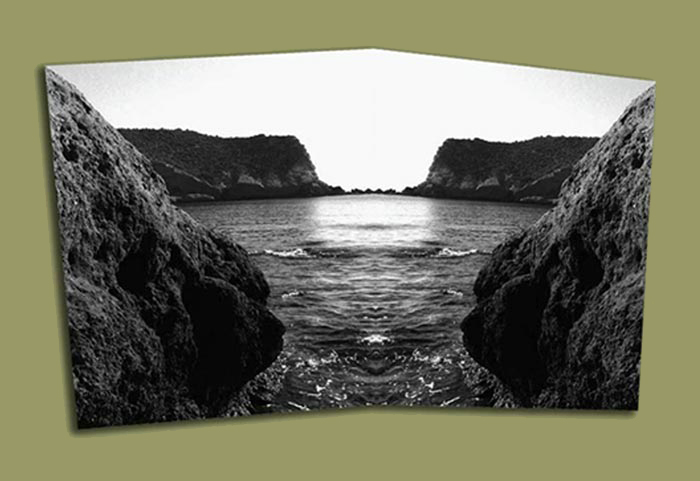 When drawing together the threads for this month's digital 'zine we resolved to gather a range of materials that would invoke a set of contiguous, unfolding geographies woven together by hybridities of culture, migration and memory; new routes opening out of old impasses, reification and relation - human topographies charted along lines of flight, punctuated by disparate points of departure.
From the confluence of voices within the world of U. Kanad Chakrabarti's 'Almadraba 38.17° N 13.24° E' and his expressive invocation of Sicily's economic and migratory situation in the Mediterranean, to the symbiotic relationship between artist and inmate in Tori Pelz's 'Walking Gregory's Neighbourhood' - her compelling new addition to the #Strategies art writing project which explores spaces of incarceration and freedom through mapping and memory. Charting linguistic power-relations and migration routes, Teju Adisa-Farrar narrates a direct human experience which defies the conformity and homogeneity of conservative power models articulated in her poem 'No Somos Animales' - our latest addition to the UN[dis]criminate virtual encampment, whilst in other territories our reporter Jim Broadband reveals the dystopic rumours circulating throughout the augmented settlement of New Town in 'Kilometer 13', describing furtive border incursions, speculation upon human suffering, all concealed in plain sight - or in the back of a truck. Plus more content and all our usual opportunities open to the network of digital artists.
The Unstitute is a minor literature...
---
- THE PROJECTION ROOM -
U. Kanad Chakrabarti
Almadraba 38.17° N 13.24° E
15/10/17 - 15/11/17
In The Projection Room this month we are delighted to present 'Almadraba 38.17° N 13.24° E' - a video of great lyrical and intellectual power by US/UK artist U. Kanad Chakrabarti. His practice draws on a 17-year career as a computer scientist and derivatives trader, based in London, Istanbul and Moscow, where he witnessed first-hand the economic, cultural, and technological transformations underway in Emerging Markets.
"My artistic practice originates in subjective interests outside art: principally the action of globalised markets, both today and throughout history. I am intrigued by how globalisation affects individuals, such as immigrants, as well as 'knowledge-workers' who are increasingly following the 'blue-collar' workers of yesterday into obsolescence. My practice looks at cultural interchange through the metaphors of markets and mathematics. For instance, the video Almadraba 38.17° N 13.24° E (2016), is nominally about Sicily, a palimpsest born of Magna Gaecia, and latterly an epicentre of Italian migration to the US, Australia, and Northern Europe. Yet the video is really about the contemporary immigrant experience: labour that natives can't or won't do; the memories of food from home; an attempt to honour the foreign gods; nostalgic recollection of visiting a fish-market with one's mother; an enhanced awareness of the power of the state."
U. Kanad Chakrabarti

Participation at The Unstitute grew from our online Projection Room - which amongst other things constitutes a visual manifesto for a nomad cinema, a strategic step towards altering the relationship between artist and audience via the medium of the website; [sub]missions are free, inclusive and co-operative.
---
- #STRATEGIES -
Tori Pelz
Walking Gregory's Neighborhood
This month in the Liebratory we open out the brief of our new art writing series #Strategies with the insightful and revealing collaborative project 'Walking Gregory's Neighborhood' by US artist Tori Pelz.
"Through written correspondence, Gregory, a poet and current inmate of a Michigan correctional facility, took me on a tour of his Detroit neighborhood. I posed to him a simple request, "Take me on a walk of the places in your neighborhood that have shaped you." Guided by Gregory's descriptions and a hand-drawn map, I visited each site, performing his once routine walk, bearing witness to both visible and invisible landmarks of his personal history and transformation. While enacting my own mobility on behalf of Gregory underscores his twenty-two years of isolation from geographical and familial roots, this performative gesture also attempts to reclaim his own agency through a partial transcendence of boundaries."
Tori Pelz
Visit the Liebratory at The Unstitute to read archived publications, loiter about in an online kind of way, or consider submitting your own #Strategies: an archive of experimental, tentative, incidental and avant-garde series of texts housed at and disseminated via The Unstitute.
---
- UN[DIS]CRIMINATE -
Teju Adisa-Farrar
No Somos Animales

This month the UN[dis]criminate encampment welcomes the superb poem 'No Somos Animales' by writer/poet/performance artist and urban geographer Teju Adisa-Farrar. Oscillating between two imperial languages - English and Spanish - Teju articulates complex, yet nurturing voices which hallow from the continually shifting narratives sourced from postcolonial experience and political identity. Her interdisciplinary performance art is produced from the research she does on geographies of Blackness, transnational activism, city culture initiated and experienced by people of African descent and other post-colonial communities.
"Teju integrates socio-historical writing, poetry, movement, and subjectivity to explore the realities of Blackness and post-capitalist futures in Euro-North American urban contexts. With a Bachelors of Arts in Sociology and Critical Theory and a Masters of Science in Urban Studies, over the past two years Teju has lived in four European cities conducting this research on cultural geographies, participating in collaborative artistic projects, and performing poetry."
Teju Adisa-Farrar
UN[dis]criminate is a new archive exploring artistic attitudes to the seismic shifts occurring in geopolitics, technology and cultural narrative. Come into the temporary encampment to investigate for yourself, and consider submitting relevant content of your own...
---
- THE CUTTING ROOM -
The Unstitute presents...
'Kilometer 13'
15/10/17 - 15/11/17
From the cutting room floor this month we present further reports of territorial incursions from the New Town experiment in the form of 'Kilometer 13' - a new short video by avatar Jim Broadband. Riffing from border disputes in the disputed territory of Catalunia, New Town is a breeding ground for rumour and slack talk of all kinds.
"I know a guy. A guy in New Town. He can get you over the border. All borders are porous - for a price..."
'A conversation overheard at a bar leads me to speculate that this fictional movement of people across the border happens all the time; just because you don't see it, doesn't mean it isn't happening, even if only in people's heads, even if in reality it is happening on an industrial scale. It's just economics. You look at a truck on the side of the road, innocuously. All kinds of things happen outside of view. Outside of view, entire worlds are born and disappear.'
"In the back of a truck somewhere, worlds are disappearing right now. Maybe some new ones are appearing also. Even fictional ones. Things are happening too awful to speak of. Don't you feel it? And who's to say it won't be us in there soon, given the absurdity of everything, of the political situation right now. Who's to say we aren't already in there, maybe in virtual reality or something..."
Jim Broadband
Explore the hyper-anxieties of New Town, only at The Unstitute...
---
- NEW TOWN-
By The Unstitute...
'Els Muntanyes'
Per sobre de les muntanyes, més enllà dels pins distants
Els píxels es divideixen momentàniament per revelar un caçador congelat
Aïllat a les planes altes. El país dels altiplans no té lloc.
Cap lloc per ser.
Above the mountains, beyond distant pines
Pixels divide momentarily to reveal a frozen hunter
Isolated in high plains. Plateaux country is no place.
No place to be.

Jim Broadband
The New Town project employs artistic inquiries into daily life to penetrate the everyday quality of existence in this place - an effort which in part is used to help accept that the world cannot, should not and will not conform to the ideas we have about our experience of it. But no doubt, such distortions do arise. It is no surprise then to find New Town only partially visible, inadequately described, exaggerated or poorly lit - much like a lonely street at night, or the dream of one; a report of nothing happening somewhere.
---
- VIDIOT -
The Unstitute
Latitude 40.907682 Longitude 0.512197
This month's addition to the postindustrial architectures of the Vidiot project provides an alternative window to open in your browser, offering a minute's respite to gaze absentmindedly...
The Unstitute is an excavation without windows. The Vidiot Windows project connects windows from around the world through which visitors can look out onto different everyday scenes through their browser window, collapsing frames of space and segments of time into a room constructed entirely from looking panes.
---
- PARTICIPATION -
Open Submissions
The Unstitute offers the opportunity for artists to take part in our experiment through a progressive community alliance in which we mutually advance the possibilities of the browser-based digital experience as a medium for the artist. We do not offer a traditional gallery experience for the artist or the viewer - we are incubating a hybrid, experimental model of artists' community with the time, energy and integrity required for such a project.