'ZINE #07
I Am A Research Station
December 2017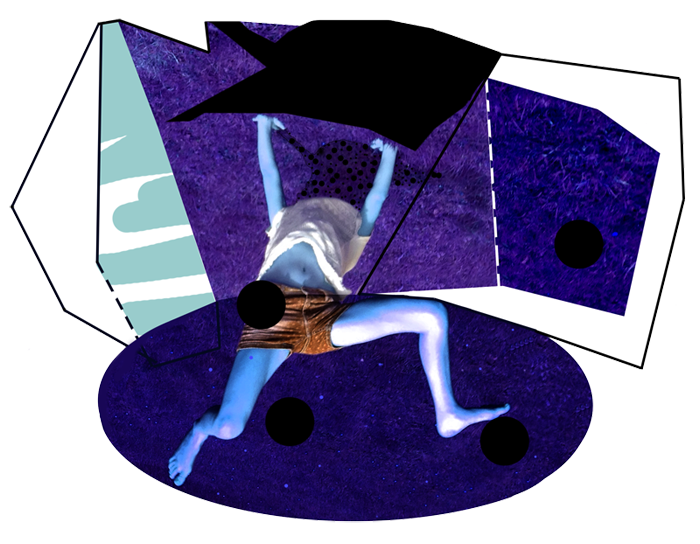 The organs of change are cranking into work in some of the deeper auxiliary basements and behind rusted bulkheads at The Unstitute; a shifting spatial architecture, mutable and impermanent. Information leaks are expected in the new year...
In our final 'zine for 2017 encounter a manifold array of creative inquiries oozing into digital forms of expression, providing opportunities for cognitive restructuring, insight, provocation. From the serene glide of graphic narrative deconstruction by Danish artist Mark Tholander, to the hybrid art-manifesto production of UK-based nonceptualist Jeremy Gluck, the linguistic scalpel of Aotearoan artist Hana Pera Aoake's contribution to #Strategies, and a stop-frame window addition to Vidiot from Winegames founder Joe Stevens.
The Unstitute explains nothing...
---
THE PROJECTION ROOM
Mark Tholander
We Were Waiting For a Train
15/12/17 - 15/01/18
In The Projection Room this month we are proud to mark the return of another exceptional practitioner exploring digital visual language with great vigour and intelligence. Danish artist Mark Tholander's 'We Were Waiting For a Train' establishes through its discontiguous timeline an array of modular, narrative blocks which produce new intensities and lines of flight, provoking the degradation of perspectival narrative through the strange harmonies of a decaying video bitrate.
"Tholander's practice moves across a variety of different media (installation, video, net art, mail art, sculpture, text and sound) and can be described as a highly interdisciplinary approach in a mixed media field. He is occupied with what lies beyond the reach of concept-driven language: that the collapse of language does not indicate the border of thinking, but rather indicates where a different kind of thinking begins."
---
UN[DIS]CRIMINATE
Jeremy Gluck
Manifesto of Nonceptual Art
This month we are delighted to introduce the practice of UK-based digital pioneer Jeremy Gluck. In his video manifesto for Nonceptualism, (a platform through which he seeks to explore the traditional hierarchy of how art is perceived,) Gluck utilizes repeated forms to delineate and unsettle – creating a critical space for the audience to question the fast-paced consumption of reproducible modern society. He is also currently piloting a groundbreaking digital art project, Game of Memes, in his residency at Eltham Hill School, S. London; which can be seen at Vinyl Deptford Gallery, London and then at The Hundred Years Gallery, London.
"Dada used art to protest the absurdity of society. Nonceptualism uses absurdity to protest the art of society."
---
#STRATEGIES
Hana Pera Aoake
Alien Cyborgs Staining Their Fingers With Flower Stamens Then Swiping Left
The latest addition to our art writing series #Strategies comes from Aotearoan artist Hana Pera Aoake. "Alien Cyborgs Staining Their Fingers With Flower Stamens Then Swiping Left" is an experimental text of wry perception, wit and beauty which viscerally opens institutional power hierarchies in the pursuit of hybridised language of sense. Through the bodily extension of the smartphone to postcolonial assimilation of desire into economies of whiteness, Aoake's text invokes a technological, dopamine-filled thrill of an augmented, avatar-sexuality hyperstimulated by its own penetration and/or domination by corporate revenue flows.
"Hana Pera Aoake is an artist and poet based in Te Whanganui-a-tara, Aotearoa. Hana primarily works collaboratively within the indigenous art collective Fresh and Fruity, which initially started as an ARI based in Ōtepoti. Hana's work investigates their own positionality as both Māori and working class within institutional power structures within the art world. They are interested in writing as verb. Hana mostly works through text, conversation, performance and site specific interventions. Hana is currently crippled by debt studying a Master of Fine Arts at Massey University."
---
- VIDIOT -
Joe Stevens
Latitude 52.215176 Longitude 0.121408
This month's addition to the postindustrial architectures of the Vidiot project provides an alternative window to open in your browser, offering a minute's respite to gaze absentmindedly...
"The Wine City video which I made on a recent residency, is a LEGO cityscape filmed as a time-lapse video. This collage is the city map upon which the buildings have been placed. The placement of the buildings reflect the order of the original data as well as the partitioning of the city into 5 distinct areas, referring back to the five colours found in packets of Wine Gums.
Shot on a Nintendo 3DS, the Wine City video represents 25 hours of filming with 1 frame being taken every 15 seconds. With the video running at 20fps it contains 6000 frames for a total time of 5 minutes."
The Unstitute is an excavation without windows. The Vidiot Windows project connects windows from around the world through which visitors can look out onto different everyday scenes through their browser window, collapsing frames of space and segments of time into a room constructed entirely from looking panes.