'ZINE #08
They Deleted Themselves...
Final Edition - January 2018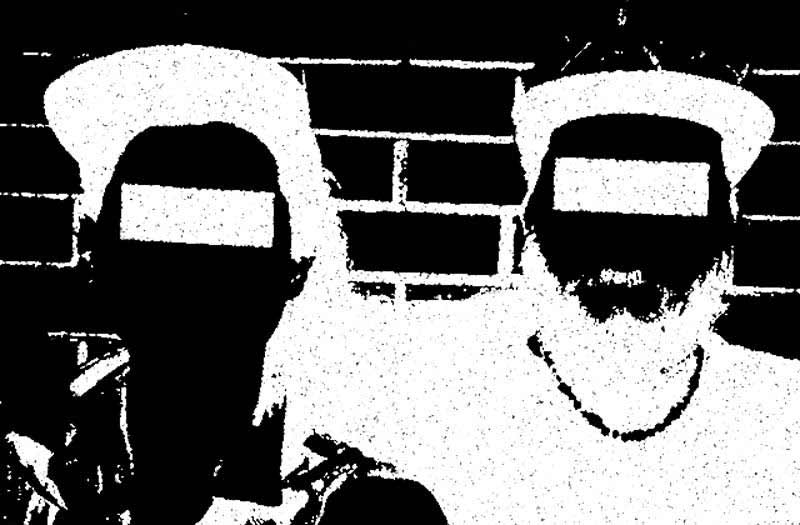 In September 2013 [an]architects at The Unstitute excavated a new area within the burrow design of exploratory underground constructions, an area for networked practice - a Participation Portal in which all digital practitioners could share their explorations, experiments and online practice with us in our virtual Projection Room.
Building upon this engagement we designed and constructed whole architectures for our practice of participation, curating 48 group shows through online projects such as the pioneering UN[dis]criminate video encampment, the [dis]Corporate Bodies artists' collaborations, the art writing collection #Strategies, and the postindustrial portals of Vidiot.
This practice of wide-ranging collaboration with artists anywhere with a desire and an internet connection has enabled us to explore contemporary networked visual culture with a growing network of participants, which eventually spawned the monthly publication of this 'zine - a hybrid of curated content composed of art produced in-house and selected from your open submissions. 'Zine #8 represents the culmination of this current form of participation.
In the final edition of our monthly 'zines we are delighted to present a feature double-bill in the nomadic cinema experiment the Projection Room, three excellent new additions to the virtual UN[dis]criminate encampment for artists, plus two artists' #Strategies have been added to our art writing stack in the Liebratory project.
Where we go from here is another question. The underground activities of Marianna and Daniel O'Reilly, AKA The Unstitute, continue in the form of the digital poetics explorable in the New Town project, or until such time as we burrow up again into the public domain.
The Unstitute is a practice...
---
THE PROJECTION ROOM
Iris Borovčnik
Hyper Hyper I-Id
+
John O'Hare & Tom Phipps
The Road To Middle Engand
15/01/18 - 15/03/18
"The conceptual short film 'HYPER HYPER I-Id' opens debates on neoliberalism, self-management and identity politics. Three protagonists attempt to discover a way together, and within their own space of work/identity. By using trashy materials and overshadowing colours, rhythmic language that shifts between seemingly childish speech and management speech, as well as the ongoing beat of petra und der wolf's music, the film explores possibilities and difficulties of bringing different struggles together to aim for alliances in a future yet to come."
Iris Borovčnik
"The Road To Middle England explores the ideology of social progression from the perspective of someone that is financially insecure and unemployed. The story follows an unnamed job seeker, faced with a mandatory work trial at his local Burger Island fast food outlet in order to continue his entitlement to social welfare. A dystopian nightmare unfolds as humiliation becomes a necessary experience of class progression."
John O'Hare & Tom Phipps
---
UN[DIS]CRIMINATE
Ioana Țurcan
Self Illusion
+
Andrey Ustinov
Open Power
+
Mark Cypher
Biogram
"I was born in the 90's and missed the fall of communism by five months. I missed 2 more major shifts due to studying in the US when Romanian youth organised mass-protests againts the Government in 2015 and 2017. It seems that I have missed all the revolutions that mattered, so I am provoking my own, on different grounds."
Ioana Țurcan
"Over the course of a year (2015-16), I searched for free, functional sockets in and around the city of Cologne. I photographed each find using GPS, making it possible to enter their exact locations onto the Google-Map. The final result was a listing of 100 230V-sockets available all over the city."
Andrey Ustinov
"Biogram is a net-art work that generates real-time topological visual and aural models based on the sentiment analysis of tweets that reference 'experience'. The art-work contends that rather than being a singular subjective event, the space of experience is entangled with multiple networks of human and nonhuman objects that help us perform what we might express as 'experience'."
Mark Cypher
---
#STRATEGIES
James Moore
The Return of the Soul
+
Andrei Ustinov
The Luminous Box
"Despite the ever-increasing amounts of simulation that we experience and the huge amount of time that people are spending in virtual spaces, most of us would agree that the universe is physical, it's measurable, and we experience it as conscious human subjects. It seems pretty obvious that the physical nature of the universe is entirely settled from a philosophical point of view. Human consciousness itself is nothing more than a process that can be observed taking place inside our physical brains."
James Moore
"As soon as the sun sets, the twilight control switch activates the LED strips behind the photo film and, similar to a light box, the photo becomes visible. So that this process could be repeated night after night, solar collectors were installed on the roof of the former telephone box and the solar battery was installed in the box itself. In this way, the former telephone box was converted into a perpetual "Luminous Box" in the darkness of the wasteland."
Andrey Ustinov
---
THE CUTTING ROOM
The Unstitute
Interview With CADE
15/01/18 - 15/03/18
Watch a rare interview with ultra-reclusive [an]archivist CADE and curator Bettany Unction regarding the epic 'Neo-London' project. CADE is part-animal, part-psychogeographer and agreed to appear in this video concealed inside a council wheelie bin for emotional support.
"When I first arranged to meet CADE for an interview regarding his project which is now known as "Neo London" I had to wait a long time. I had been led to believe that he was ever precise in time-keeping, and it was certainly an inconvenience for me to have to wait in Café Reality on the Old Kent road, (the only place anyone ever meets CADE by prior arrangement,) for over three hours on a drab Tuesday morning. The meeting itself had been difficult to organise because, amongst other things, CADE has no permanent residence and the only way to meet him is by leaving messages in likely places all over town - in bus shelters, old-fashioned East End public houses, sacks of refuse, under loose paving slabs or in those corners where things collect - but even this system is not entirely reliable, for CADE variegates the range of his territory and one can never say with certainty the places he is likely to be sniffing around. It was with no small feeling of delight when I eventually received the letter of acknowledgment some weeks later, slipped under my door and characteristically sealed with phlegm."
Bettany Unction
---
VIDIOT
Anne Edney
Latitude 52.215176 Longitude 0.121408
This month's addition to the postindustrial architectures of the Vidiot project provides an alternative window to open in your browser, offering a minute's respite to gaze absentmindedly...
The Unstitute is an excavation without windows. The Vidiot Windows project connects windows from around the world through which visitors can look out onto different everyday scenes through their browser window, collapsing frames of space and segments of time into a room constructed entirely from looking panes.