[dis]CORPORATE BODIES #7
~ curated by The Unstitute ~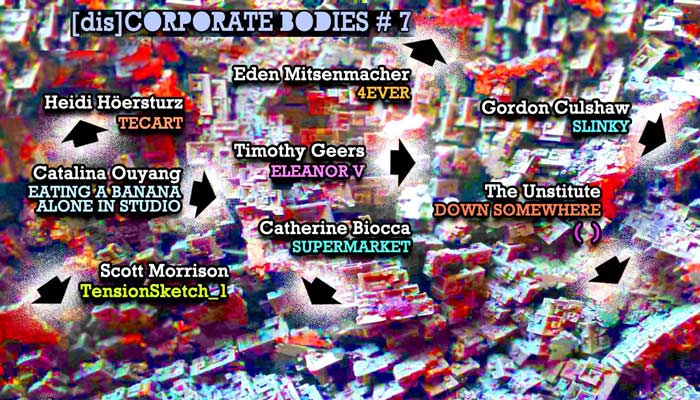 Heidi Horsturz
(lives and works in Geneva, Switzerland)
TECART / Video
READ ABOUT
YoYo Art, Trash and Noise
The Media Artist "Heidi Hörsturz" is operating in the YoYo Galaxy. This Video shows a Live Performance as part from the "Tec Art" Exhibition during the "Rotterdam Art Week 2015". Stephan Hawkin prophesying the "End of human race"and "Heidi Hörsturz" brings a audiovisual noisemassacre to "WORM"(Instituut voor Avantgardistische Recreatie).
"ELECTRIFRYING ARTIFICIAL INTELLIGENCE" and take care for Unicorn Laser Attacs !!!
---
Catalina Ouyang
(lives and works in St. Louis, USA)
EATING A BANANA ALONE IN STUDIO / Video
READ ABOUT
I ate a banana alone in my studio, in the basement of the Earl E. and Myrtle Walker Hall.
The Earl E. and Myrtle E. Walker Hall was dedicated on October 25, 2006. Earl E. and Myrtle E. Walker, St. Louis natives, both graduated from Kirkwood High School. Earl and Myrtle are now the CEO and vice president of Carr Lane Manufacturing Company, founded in 1952. The company is one of the world's largest manufacturers of tooling products. Earl was named the Kirkwood, Missouri Citizen of the Year in 1971. Earl and Myrtle have contributed through service and donations to the YMCA, Girl Scouts, and Triumph Church. They also funded new construction projects and educational initiatives for Kirkwood High School. Earl, along with Les Denny, also established the Walker Scottish Rite Clinic for Childhood Language Disorders in 1989. The Myrtle E. Walker Scholarship Fund was started in 2001, which provides a scholarship for students in the Sam Fox School of Visual Design & Visual Arts. In 2004, Earl was awarded the Kirkwood, Missouri Lifetime Achievement Award.
Catalina Ouyang is the recipient of the 2011 Esther & Arthur Proetz Scholarship, the 2011 Elizabeth Greenshields Grant and the 2014 Caroline Risque Janis Prize in Sculpture. Her work has been exhibited in Los Angeles, Annapolis, Baltimore, Florence and St. Louis, including at the Pulitzer Foundation for the Arts and the Contemporary Art Museum. In 2011, her work was included in Manifest Gallery's International Drawing Annual 6. Ouyang received her BFA from Washington University in St. Louis in May 2015.
---
Eden Mitsenmacher
(lives and works in London, UK / Tel Aviv, Israel)
4EVER / Video
READ ABOUT
Born 1987 in the USA; works in London and Tel Aviv. Combining performance, video and installation to take a critical yet engaging view of social, political and cultural issues. Embracing the desire to do what you love and occasionally getting embarrassed by it. Finding a form for vulnerability and blurring the lines between sincerity and ambiguity. Using pop culture as a frame of reference for social and personal critique but also as a way to create familiarity and accessibility. Sharing and connecting experiences between an I and a You.
---
Timothy Geers
(lives and works in Boston, USA)
ELEANOR V / Video
READ ABOUT
I am a Boston based Video Artist and a graduate of the MFA program in Visual Art from the Lesley University College of Art and Design. My artistic interests lie in the re-contextualization of disturbing themes and their associated images. I re-contextualize non-fiction narrative (often news events) in a deliberate attempt to create metaphorical representation. This allows the viewer to transcend the specificity of the media and experience the visceral emotions and pain lacking in generic, mass produced visual content.
---
Scott Morrison
(lives and works in Melbourne, Australia)
TensionSketch_1 / Video
READ ABOUT
My practice intertwines video installation and sound design to create new ways of viewing both natural and synthetic environments. These rhythmic and at times multi-channel audiovisual works combine my interest in the aesthetics of rural landscape and the challenge of altering an audience's perception of density and time within the moving- image. My work focuses itself very much on the synergistic properties between the seen and heard, in both alignment and as point of departure. I see the use of the natural world as an infinite palette, re-imagining somewhat known experiences offers an immediate platform or window in which the viewer can engage with the work. When something is perceived as acting outside of its natural order, its significance can start to become something else entirely. This interplay of how we read the moving image allows me to create cyclical, loop based works that have no defined linear progression, rather they offer themselves as mediative and enveloping works that encourage a viewer to look and to engage in the very act of looking again and again.
---
Catherine Biocca
(lives and works in Amsterdam, The Netherlands)
SUPERMARKET / Video
READ ABOUT
In her low-fi work Biocca merges different levels of dimensions, reversing and swapping the diverse media she uses to generate an unfamiliar stage: the result is a mix of animation, bi-dimensional and tri-dimensional elements dealing with displacement perceived inevitabely as a whole by the viewer.
Her direct visual language often in combination with audio elements stretches reaching the moment of recognition to absurd lengths questioning why we accept violence as a form of entertainment and how Schadenfreude is generated. Using an unprocessed and raw form to question a rather violent yet tremendous entertaining side of life, she understands art as something engaging and brutally leaned back at first glance, which on another level reveals its ordinary emptiness and nonsense as real sense.
Work is represented by the point where the personally marked and defined XY axis meet each other: X inidcating what you love the most and Y indicating what you hate the most.
Rigoletto, gladiatorfights and crush videos: Rigoletto's daughter is taken away from him and in the end both her and him die, which yet generates a big laughter among the audience, because this terrific tragedy is produced by a prank. It has something threatning, if we consider the fact that the fast development of this situation from harmles joke to deadly tragedy is not even being percieved by the opera audience during its progression. That's just crazy what you see there. Interpretation is a boring activity that creates distraction from the real intent of truth.
---
Gordon Culshaw
(lives and works in Scarisbrick, UK)
SLINKY / Video
READ ABOUT
"The idea that 'although technology is a tool which does what we want it to do, we can only want what technology can do', is one that fascinates me.
I am interested in modes of cultural representation and ways in which individuals choose to create their own personal reality by relating themselves to different combinations of cultural artefacts. With the breakdown of the subject/object dialectic, we now, wittingly or unwittingly, increasingly rely on technology and the objects it creates as a means to define ourselves as subjects."
---