[dis]CORPORATE BODIES #11
ANARCHITECTONICS
~ curated by The Unstitute ~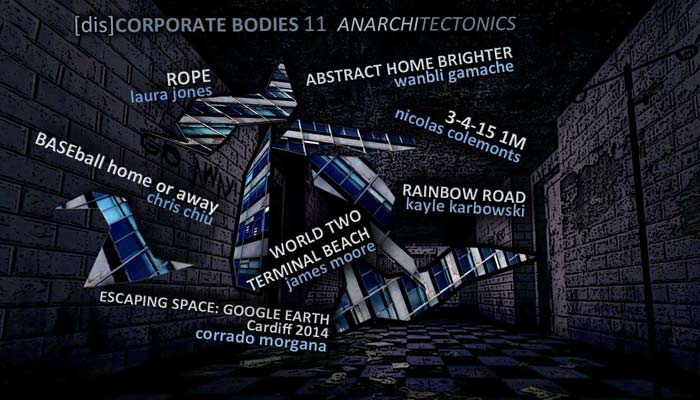 READ ABOUT EDITION 11
The 11th edition of [dis]Corporate Bodies presents works by artists experimenting with virtual and real environments, constructing architecture of hybrid spaces and reality simulation. The Unstitute invites you to explore these complex simulacral virtual planes and welcomes you on an anarchic tour around active environments that selected artists present in this edition of [dis]Corporate Bodies.
---
CORRADO MORGANA
ESCAPING SPACE: Google Earth, 2014, Cardiff / video
READ ABOUT
Corrado Morgana is an artist, electronic musician, curator and educator. He is currently Academic Manager for Games at University of South Wales following Course leadership of BA(Hons.) Computer Games Design. He has taught at various national and international institutions for over 18 years running both practical and theoretical strands.
Corrado has researched arts and videogames crossover practice, specifically transgressive and subversive production within existing game engines. Alongside HTTP/Furtherfield.org, an international media arts collective, he has co-curated 'Zero Gamer' and 'Game-Play', national touring exhibitions which explore game spectatorship and independent and experimental production.
He has been involved in various large scale collaborative projects. These include Node.London a practical framework for media arts whose March 2006 season presented over 140 media arts events within London and also Open Congress at Tate which mapped free, libre and open source strategies onto general cultural production.
He has produced video work, collaborative online projects and performed live electronica at various international venues and is currently involved with various game development and advocacy communities within the UK.
Escaping Space: Google Earth, 2014, Cardiff is the latest in a series series of glitch trespasses and digital dérivée through polygons, pixels, poor broadband connections, unexpected perspectives, computational limits and gigabytes of other peoples property. The piece takes us from one end of Cardiff to the other travelling west; Cardiff being one of UK's first cities to have detailed architecture represented within Google Earth and currently home. This is a document, of a specific time, place and the network connectivity and computational prowess and failure at the moment of recording. It is a performance with many technological actors. Textures do not load, terrain is clipped through and what is meant to be seen from afar exposes its boundaries, its impossible mappings and inner workings.
---
CHRIS CHIU
BASEball, Home or Away / video
READ ABOUT
Beginning from an interest in Systems and Structures, BASEball explores the idea that there is a growing assimilation between Sports and War. In terms of training, the choreography of the training, and the simulative visuals, this work draws on the importance of the contingent in war and which is also prevalent in Sports. Using Audio of commentators of the Baseball World series phrases like 'Run to first Base!" begins to sync with mantras shouted by soldiers on military training bases such as to "protect the Base!"
BASEball explores the realism of these subjects in a virtual environment in order to reflect on the growing Structuralism and engagement there is with better techniques in warfare. BASEball perhaps goes to question he priorities that seem to be set out in Military training.
---
LAURA JONES
ROPE / video
READ ABOUT
Inspired by my dance and performance background, I work with video and space, exploring habitual movement and every day patterns and sensations at an 'endotic' level: the extraordinary within the ordinary. Although I don't choreograph in a traditional sense, my work highlights choreography which occurs constantly, spontaneously and subconsciously. The city is a stage for a mass subconscious dance. I invite an alternative perspective on seemingly banal situations and objects, promoting a haptic and sometimes erotic response in the viewer.
---
WANBLI GAMACHE
ABSTRACT HOME BRIGHTER / video
READ ABOUT
Wanbli Gamache is interested in the continuation of memories within abandoned structures and the narrative that follows in the space as new observers manifest their own personal history as well as the interpretations within the discovered and explored locations. Using stop motion video, He constructs a new observation that he animates based upon his own personal representation of the found space. Wanbli uses multiple mediums to engage the viewer on an emotional level as they are provided a medium to explore the presented environment. By finding the layout of many abandoned areas as a form of abstraction, he attempts to make sense of the misaligned layout.
---
KAYLE KARBOWSKI
RAINBOW ROAD / video
READ ABOUT
Kayle Karbowski is a human being, artist, writer, curator, Scorpio and self-informed cultural critic that was born and raised in the suburbs of Chicago and now resides in Milwaukee, WI. She actively traverses the line between DIY and institutional art scenes through participating in and organizing a diverse set of exhibitions and events. In her personal practice, Karbowski uses the language and tools of film, video and theater to highlight the value placed upon masking, refining and performing in mainstream American culture. Science fiction, the queer and satire become common themes in her work, as it navigates malleable modes of representation through both sculptural and digital means. "It is only through happening upon the parallel of your homeland, meeting your doppelgänger, or knowingly engaging with déjà vu, that we can really confront who we are and where we come from."
Rainbow Rd. (Sunset Valley) infuses real space and real things with the simulated as a meditation on media's influence on our private lives.
---
JAMES MOORE
TERMINAL BEACH / videos
WORLD TWO / videos
READ ABOUT
The animations that I have created sprang from my use of models as the basis for paintings. My paintings are of subjects that are usually either fake, don't really exist, or are impossible to see in the flesh, but that still have a collective reality amongst groups of people. I often use source material that is a 'bad' copy of the real world, such as a museum diorama or computer game. I try to exploit the classical picture space, a fictional box that exists behind the 'screen' of the picture plane.
It was a natural step to begin animating the models I had been making and 'World 2' is the result. They are simple panning animations with a rolling camera shot moving through each scene. The scenes are based on small sketches that I constantly make, I have literally hundreds of them. They show blocks of architecture, open skies, trees, dioramas – they are surreal and dream-like – somewhere else.
The animation called Terminal Beach is a rolling camera shot through a scene from the JG Ballard story The Terminal Beach. Set on a remote pacific island – a former nuclear weapons proving ground - the cold war era short story focuses on the ragged breakdown of a character who has opted to leave the 'normal' world and become infatuated with the architecture of this bomb testing site. The real threat of armageddon and entropy playing out synchronously in the human psyche and in the architecture of the island.. The character encounters a huge array of hundreds of large concrete blocks, part of a ground zero monitoring location.
---
NICOLAS COLEMONTS
3-4-15 1M / video
READ ABOUT
I'm experimenting about the humans and mechanics movements thought, videos, installations, series of pictures. This video is a sort of a mechanical illusion. And whatever.
---