[dis]CORPORATE BODIES #6
~ curated by The Unstitute ~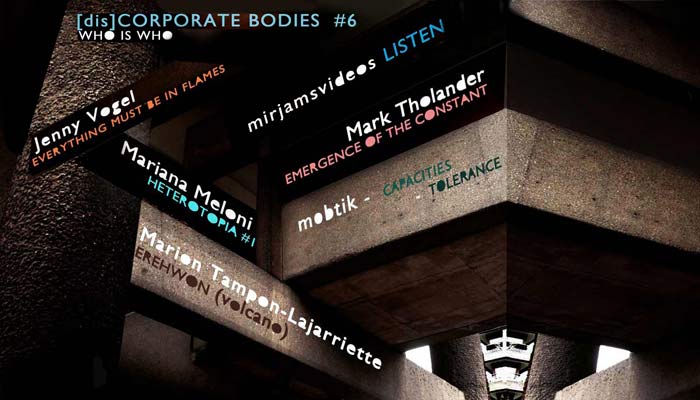 Marion Tampon-Lajarriette
(lives and works in Geneva, Switzerland)
EREHWON (Volcano) / Video
READ ABOUT
The video loop series Erehwon features endless tracking shots that lead us towards scenes that remain unattainable. These ambiguous landscapes provide a paradoxical displacement that leaves the viewer static while at the same time projecting him towards the distant scenery. These impossible images are composed of travelling shots of different terrains digitally filmed by the artist and cinematograhic settings inlaid above the horizon line. Created as a montage of coastal landscapes from today and sets from fantasy films from the 1960's, these images offer a circuitous exploration of place that appears to be at once nowhere and everywhere in the images of our mind. At once 'no-where' and 'now-here'.
The work of Marion Tampon-Lajarriette (born in 1982 in Paris, lives in Geneva) explores how the image haunts our memory and perception. Using the tools of contemporary digital culture, she constantly adopts various modes of actions to engage and produce an experience of wandering through images in the general consciousness of the audience. She leads us to new territories that allow physical and mental wanderings, which branch apart like the process of travelling through memories.
Her works have been exhibited at Palais de Tokyo (Paris), Mamco (Geneva), Swiss Institute (New York City), between others, and is part of the permanent collection at Mamco (Geneva), MEP (Paris), NMNM (Monaco), etc. In 2013 she was awarded the grant and residency in NYC of the FCAC-Geneva. She was also awarded the Société des Arts grant and the Swiss Art Award in 2009 and 2010. The artist's bilingual monograph «Paramnesia» was edited in 2013 by SAV-Fondation Ahead in Geneva (70p, fr/en, texts of Ch.Kihm and E.During).
---
Mark Tholander
(lives and works in Aarhus, Denmark)
EMERGENCE OF THE CONSTANT / Video
READ ABOUT
A visualization of the encounter between human perception and that which is perceived. Mankind has introduced a structural principle into the world. In the world's ephemeral nature, human beings implemented the idea of the absolute. Man has thus introduced a constant in the world.
The interrelationship between the constant and nature is the essential, rather than to think of them as separate. As soon as the constant entered the world, nature became determined by its relationship to it. They form a mutually dependent relationship. Thus, the presence of the constant influence our perception of the surrounding world, while nature is what sets up the conditions of the constant.
Mark Tholander is a contemporary artist who works and lives in Denmark, and has studied in St. Petersburg, Russia. His video art explores how we perceive the world, and how this perception has changed with the advent of the digital. He has exhibited his videos in various countries, including USA, England, Egypt, Romania, Sweden and Switzerland. Today he is a student at the Jutland Art Academy, Denmark.
---
Mariana Meloni
(lives and works in São Paulo, Brazil)
HETEROTOPIA / Video
READ ABOUT
Heterotopia #1 is part of a larger project that investigates spaces that have multiple layers of meanings. Using the homonimys Foucault philosophical concept, heterotopia project researches images that contains others images (through mirrors, reflexes, glasses and so on), using alter-images objects to creates illusions. In Heterotopia #1, the relation between photography and video is tensioned, its limits or non-limits, as an hybrid media piece.
Mariana Meloni is a brazilian artist interested in the connections between photography, video, dance and performance. Concluded her master degree in Multimedia Studies at the Institute of Art of the University Estadual de Campinas (UNICAMP) in 2005, and since then is working as an teacher in the University Camilo Castelo Branco (UNICASTELO), lecturing Photography and Video for the Visual Arts degree course. Exhibited her work in several shows, such as "Brazilian Video Links" (Tate Modern London); "JVC video Festival" (Tokyo), "New Media Festival" (Berlin), "International Festival of Eletronic Art VIDEOBRASIL (São Paulo), among many others. Nowadays, Mariana lives and works in São Paulo.
---
Jenny Vogel
(lives and works in New York, USA)
EVERYTHING MUST BE IN FLAMES / Video
READ ABOUT
Everything Must be in Flames" stages an eerie apparition in an institutional setting, leaving the viewer to wonder if, when and how the event took place. Located somewhere between beauty and terror the project uses technological processes not to explain, but to establish the uncanny.
"My work explores subjective themes as they are experienced in the age of information. I examine the anxiety of alienation, the desires of communication and a sense of be-longing in a virtual world. These traits, attributed to Romanticism, are dealt with in my work through the lenses of contemporary communication technology, the media and historical preconceptions. I am particularly interested in the depiction of the individual and individuality through media technology, with its resulting misrepresentations and miscommunications. Through this juxtaposition of technology and Romanticism I attempt to challenge the image of the Internet as the "global village," objectivism in the news and the ideology of science.

High-resolution photographs of low-resolution encounters, offer a surprisingly intimate reading of a contemporary loneliness. Live streaming video projections of the one-shot-per-second progression of web cameras result in a fireworks-display of light signals as if trying to communicate in some unknown code, some unknown message. Voyeurism and self-induced surveillance through constant online exposure are the desperate desires of participation in the online world, which fails in the colloquial boredom of chat-rooms. News photographs turn the faces of individuals into abstract dots, and the identities of witnesses to wonders are erased through censorship. Together these practices present a postmodern tableau of the Romantic ideal of solitude, the failing utopia of the global village and the dark beauty of a mediated planet. However, I don't merely see my subjects as victims whose individuality is crushed by the homogenizing effects of globalization and mass media. They are also heroes in a way, defying categorization, re-instating a sense of humanity, poetry and myth.

These themes are expressed through a wide range of practices, including photography, live-streaming web movies, video, drawing and printmaking. In many of my works the medium is used in its original form, providing references to its real world scenarios, while at the same time adding self-reflexive content."
---
Mirjamsvideos
(lives and works in Lisbon, Portugal)
LISTEN / Video
READ ABOUT
Listen is ruled by a doubtful world. It appears peaceful but is constantly ´disturbed´ by tiny things bursting with life. The video shows 5 scenes, a play between the macro and micro world, at moments when everything is almost colorless, creating a strangeness and the question whether the atmosphere is sad, scary or beautiful.
Concluded in 2013, a sequence of 5 videos, 2 staged microcosm worlds combined with 3 macros playing with micro elements.
Born in the Netherlands 1983, Mirjamsvideos concluded a Master Degree in Photography at the Royal Academy of Fine Arts Antwerp, Belgium. Now working from Lisbon Portugal.
"Through videos almost as still as photographs I show that which often goes unnoticed; the incredible beauty that surrounds us in our ordinary lives. They are silent things, as normal as they can be, but for whomever willing to see it, they are sublime.
I grew up in the Netherlands, in a house that more resembled a zoo. The greatest spectacle my father had ever made, was a 20 square meter rainforest in the attic where hummingbirds flew around and frogs and lizards were trying their best not to be seen.
With my parents I learned to see that which often goes unnoticed, to appreciate that which is silent, small, pure, magnificent. Years later, during my studies in Photography I encountered some words in a philosopher´s writings that said that: "A feeling of sadness arises in people, when looking at a beautiful work of art or being in a beautiful piece of nature. It reminds them of the absence of this beauty in normal days and they wonder, why not everyday life can be like this." From than on I set out to show that daily life can be like that, that beauty is everywhere, for those who are willing to see it.
The change from photography to video came by pure chance. Though the videos still hold to their photographic roots, the change to include time was a necessary step to take to show the pure beauty of daily life, which is all dances of subtle change over time.
I travel as much as I can. Seeing new places and different ways of living, has greatly enriched my life and my work: I followed trails of ants, I hugged stray cats while the inhabitants of the city set cars on fire and ran screaming through the streets. I floated above the earth in cable carts, saw insects that can walk on water, bought a flower from a person without a job, drank too many coffees and didn't sleep. A bug got lost in my hair, I searched for lizards in the parks, I watched the dust flying around in hotel rooms and the birds in the sky. Still, many of the videos were shot in or from my own living room, even through the bathroom window.
---
Mobtik
(lives and works in Germany)
CAPACITIES / Video
READ ABOUT
The Ultra Short Film CAPACITIES shows a bizarre, but still not uncommon situation of urban life. An experimental description of capacity, as it exists in general, in its un/limited nature for man and his environment.
"We are the creative collective mobtik producing projects from media art to traditional fictional stories in pictures and sound, participating in numerous film- and videofestivals (e.g. International Shortfilmfestival Berlin, Köln Comedy Festival, Bunter Hund München), at exhibitions, events and museums on all continents (Louvre Museum Paris, Multimedia Art Museum Moscow, Kunstpalast Düsseldorf), on radio (Bavarian Radio, SWR and Germany Radio Culture) and television (including MDR, ARTE, Eins Festival, Channel5 Tobago) since 1999."
---