The Projection Room // Archive
> > > > > > > > > > > > > > > > > > > > > > > > > > > > > >
Sandra Fruebing 'The Individual's Pursuit'
15th August - 15th September 2014

READ MORE
Sandra Fruebing's work involves the development of narration to explore and reflect upon the relation between individual politics and contemporary society. Mostly her work involves deeper research within the fields of film, literature and the everyday social interaction. The outcomes are presented in various media from objects that are involved in the storytelling till the creation of a filmed spectacle. Sandra Fruebing is currently based in London and just finished her MA Design Products at the Royal College of Art.
"The Individual's Pursuit by Sandra Fruebing is the creation of a narrative based on a character whose quest is to inhabit an in--‐between space as an exploration of borders and boundaries. The personal desire to walk along the edge of water and earth, where both elements meet, is becoming a strong desire- almost an obsession. Specially designed apparatus and physical training exercises will be employed in an attempt to fulfil the desire. The project challenges our perception of what is accepted as normal and questions common sense. It looks at how borders in a physical and philosophical way create our definition of identity and reality.
Within the process of creating the storytelling around this rather odd quest the questions of the relationship between the individual belief and society will be explored as well as the longing for a creation of a personal space where one is almost attempting to disconnect oneself from reality and therefore add another layer to the "real real".
Partly it is about questioning common sense all the time and designing the moment of unlocking normality as well as trigger situation in which you explore the in- between. On the one hand I investigate into the relationship between the individual and society to see how one person is still able to fulfil what he or she is aiming for. On the other hand the inhabitation of new spaces plays a key role. Looking at examples of exploration in all their variety (climbing, artic exploration, space travel) I wonder where the culture of exploration will take us. Basically, we are creating very specialized Super–Humans and skills.
"One characteristic of Western Society is to develop systems, which run perfectly for everybody. But with the elimination of failure will there be place for the odds? Will there be the ambition to go beyond what is here? Will this still be possible or will the individual investigation be destroyed?" (quote from the voice over) Or will we interpret everything as grey zones and use it in odd ways? How much standardization is good and not stopping us from going further and challenge reality?
Sometimes it is necessary to create space for individuality, to find the possibility to set yourself aside the normal and not be normal. It is about defining yourself through a search that is driven by your own quest.
The narration of the film follows the Individual in its preparation for the walk at various stages. The training of one leg to become stronger, the training for a possible failure, the rearrangement of the bedroom for training purposes – are all layers that are woven together to create the reality of the character but also discuss wider themes like failure and what does it mean to fail?

As a designer I do not just look at the in-between or one individual's desire, I also design and craft the culture around it as carefully."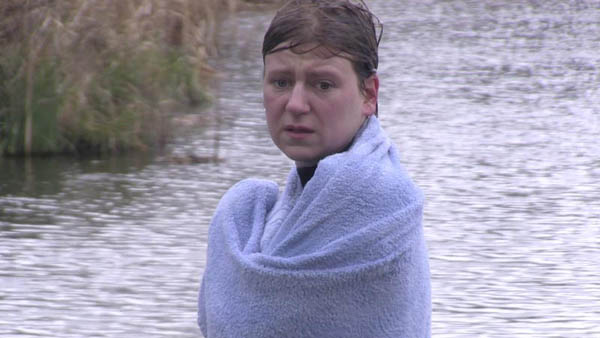 > > > > > > > > > > > > > > > > > > > > > > > > > > > > > >
Ocusonic 'A Diamond Forms Under Pressure'
15th July - 15th August 2014

READ MORE
A Diamond Forms Under Pressure, is an anomaly existing somewhere between experimental film and music video. An improvised electronic soundtrack drives proprietary software, which analyses the audio's frequency content and generates a cogent synchronous image in real-time. Frequencies push and pull against each other stabilising or agitating the central image.
Paul O'Donoghue aka Ocusonic is an Irish composer/ audio visual artist based in Dublin, Ireland. He has released music under a number of pseudonyms for a variety of labels and produced music for television and radio. To date his audio visual work has screened internationally at more than 200 festivals and galleries in 45 countries. His current work is entirely audio visual and explores a disparate collection of methods and techniques for the creation of visual music. Underpinning all of these disciplines is Ocusonics, the real-time generation of synchronous audio and visual material.
Watch A Diamond Forms Under Pressure
> > > > > > > > > > > > > > > > > > > > > > > > > > > > > >
Illich Castillo 'TOUCH-Auto-Glitch'
15th Jume - 15th July 2014

READ MORE
TOUCH-Auto-Glitch is a part of a series that explore an automatic/machinic corruption of a film frame - in the video a singular gesture of a finger pressing down is looped, lifted from the original context of the film narrative; isolated, it becomes a gesture of a mechanic destruction, a corruption of its own image. Manipulated by another gesture of the artist pressing down a pause button on a remote control, this mirroring effect of a mechanic and a manual gesture renders the image unrecognizable, in a sense cancelling them both by transforming figurative into abstract which perverts its own image to completely alter its figurative nature. This ends up becoming something unrecognizable.
> > > > > > > > > > > > > > > > > > > > > > > > > > > > > >
Matthew Williamson 'Everything is Cool'
15th May - 15th June 2014

READ MORE
Described once as "epiphanic", Matthew Williamson makes work about the cohesion between the internet and the stuff that used to be called 'real life'. While working mostly with video and animation gifs, his work is focused on the humorous relationships we forge with our machines. A graduate of the Ontario College of Art & Design and Syracuse University, his work has appeared online and offline at various galleries and websites.
> > > > > > > > > > > > > > > > > > > > > > > > > > > > > >
Dakota Gearhart 'Laundry Day'
15th April - 15th May 2014

READ MORE
"By blurring lines between reality and illusion, my work examines natural phenomena through the lens of material, landscape, and language. Elements, creatures, and molecules morph into playful and otherworldly scenes of sentience through narratives I create with accessible technology. Taking form in video, photography, and sculptural installation, my work constructs an experience that ponders the collapse of psychic distance between living beings. Working with diverse objects, such as laser prints, borrowed microscopes, and discarded houseplants, I find visual methods to invoke the intelligence of intuition, the infinite in the banal, and the ability to understand things on different terms. My inspiration for making this kind of work began as a child, when I would talk to overlooked plants and animals and feel strangely connected to them. Specifically, I remember chatting with the rows of potted plants at Walmart and the unwanted cats at the Humane Society. I felt all of them to be perceptive beings with rich personalities. I felt how supernatural their presences seemed and simultaneously, how ethereal my own presence was. I remember feeling I wasn't that different from them in some fundamental way."
Dakota Gearhart, also known as Tiffany Peters and Tiff Mich, is an artist working in video, performance, sculpture, and multi-media installation. Dakota has exhibited work both nationally and internationally in venues such as Interstitial Theater, Seattle; Elsewhere Studios, Greensboro; Launchpad Gallery, Portland; Core Art Space, Denver; Artgrease, Buffalo; Purdue University Gallery, West Lafayette; Universitat de Barcelona, Spain; and Taiyuan University Gallery, China. Her work has been published in Trifecta Magazine, Carpaccio Magazine, and Open to Interpretation Books. She is the recipient of the Julaine Martin Scholarship, the Jane & David Davis Fellowship, and the Cultural Ambassador Scholarship from the Spanish Ministry of Education. She is the organizer of the experimental garage space, The Royal Box, which showcases artists, writers, and musicians of the Pacific Northwest. Dakota was born in Arizona, raised in Florida and lives and works in Portland, OR and Seattle, WA, where she recently graduated with her MFA from the University of Washington.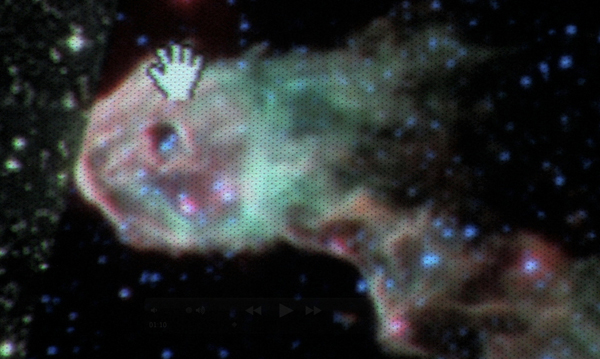 > > > > > > > > > > > > > > > > > > > > > > > > > > > > > >
Silvia Dal Dosso 'The 1 Up Fever'
15th March - 15th April 2014

READ MORE
"In the Berlin city everyone is going crazy for a viral new app. Anyone with a smartphone can play a sort of Super Mario Bros arcade game in Augmented Reality and win Bitcoins by playing. One coin corresponds to 0.01 Bitcoins. Citizens' habits are tainted by the game. Coins are hidden all over the city, you can spot them just scanning around with your device, not always they are easy to grab. People started to leave their jobs in order to collect Coins in the streets. All over the city people are jumping and running around with their smartphones, trying to grab as many virtual coins as they can, while the App developers identity remain covered. The 14 minutes movie is divided in chapters or "levels" which follows the 8bit vintage graphic and introduce to the following events with a small 8 bit animations. Peculiar elements of the Berlin city become part the Super Mario Land landscape, see those pink or blue tubes that run everywhere in the city, those climber plants popping out from wild abandoned place like old factories, longlines, gardens, those those east side building made with old red bricks, and the brige Oberbaumbrucke on the Spree river which seem the exact copy of the Super Mario's final boss castle.  In these scenery there are now people chasing coins by jumping around the city, people sailing on small boats on rivers, people losing their job and falling from bridges… and so on, while nobody knows who is giving them all that money and why. During the movie, acknowledged bloggers, hackers, game developers, financial expert are interviewed.  The shooting itself appear to be a game in the game: all the interviewees are asked to imagine the city as the app release happened for real and to answer thereby, sometimes they are even asked to play with it, but their skills and knowledge in the field allows to raise important questions on the actual use of internet, social networks and virtual currencies. Part of the work is dedicated to the Bitcoinkiez, a small Berlin district where local owners started to sell their products in Bitcoins through the Bitcoin Wallet App, which would be the "real" app to whom the Super Mario app is corresponding and who holds a world record: no other neighborhood in the world is so densely populated with commercial activities that accept the Bitcoin as a valid currency. Once that the film was completed, it was uploaded on the internet where it become a proper social experiment. There were collected chats and comments about the movie and of the people reaction to this mockery: in Poland, Portugal and Japan the news about the 1 Up Fever app was posted as this was a real app, now in commerce. On reddit, blogs and BTC chats there were discussions about the feasibility of the app, and about the conspiracy behind the movie. Many where writing from all over the world to get this new phantomatic application which kind of awakened the old Klondike Gold Rush. German, French and American magazines, blogs or tvchannels were finally dismantled the mock, and bringing the readers to a more qualitative consideration: to this day, most of the Internet's users have no idea about the huge earnings that big search engines and social networks make out of their private informations, data roaming, from the tracking of their buying, selling, talking. For those users, the usage of apps, social networks and so on is nothing more than a game."
> > > > > > > > > > > > > > > > > > > > > > > > > > > > > >
Toby Tatum 'The Secluded Grove'
15th February - 15th March 2014

READ MORE
Toby Tatum is an artist living and working in Hastings on the English south-coast, who makes films.
"I basically make films on my own, shooting digitally and editing at home. For the last few years I've worked with a composer, Abi Fry from the band British Sea Power. The films cost almost nothing to make. Each film, for me, addresses a series of ideas that I'd have been mulling over for several months, although not all of those may come over to the viewer. Central to the whole practice is the idea of an artist being able to create worlds of their own, self contained universes that abide by their own limits and rules, that exist to some degree independent from the wider world."
'The Lost World Of Toby Tatum' Video Statement
> > > > > > > > > > > > > > > > > > > > > > > > > > > > > >
Dawn Nye 'American Love Story: A Landscape in Sequence'
15th January - 15th February 2014
READ MORE
Part of an ongoing collaboration between artists Dawn Nye and Katrazyna Randall, this is a true story told from memory and visually investigated through the lens of one very far removed. Looking through the idyllic frame of the rural American landscape, the narrator leads tells the story of a culture where death is the mundane thread of daily existence and comfort food marks the limited boundaries of hope. Throughout the centuries the landscape has been imbued with the hope, fear, honor, righteousness, delicacy, power and the faith of man. This video investigates that history through a contemporary lens and seeks to find a relationship between the romantic, the tragic and the everyday.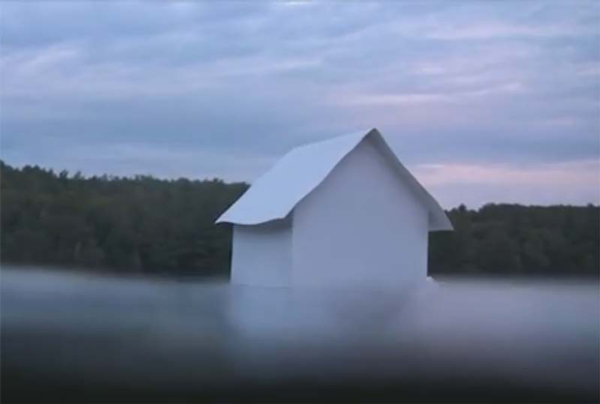 > > > > > > > > > > > > > > > > > > > > > > > > > > > > > >
FUTURE DEATH TOLL 'PRISONASACORPORATION'
15 December 2013 - 15 January 2014
READ MORE
FUTURE DEATH TOLL (F-DT) is a multidisciplinary collective creating work that circumvent the normal bounds that geographic locations and physical media impose on an art form. In a society where choice and personal privacy are increasingly under attack, the struggle for personal empowerment has become the pulled lynchpin to the derailment of human evolution. By confronting and harnessing technology we hope to create tools to orientate our post-evolutionary selves. F-DT is a throbbing mess of noise.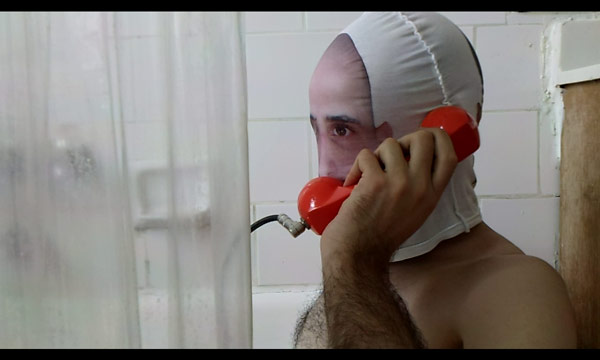 > > > > > > > > > > > > > > > > > > > > > > > > > > > > > >
Mladen Stropnik 'Fat and Virtual'
15 November - 15 December 2013
READ MORE
Solo exhibitions:
2002 Square, Velenje Gallery, Velenje, SLO
2002 2+1 exhibition, Mladinski center Velenje, Velenje, SLO
2003 Open Art 2003, Galerie Jaspers, München, GER
2003 Tab, Atelje 2050, Ljubljana, SLO
2004 e.g., phase 4, München, GER
2006 Persone, P74 Gallery, Ljubljana, SLO
2009 Fuckin' Hanging, Galerija Gregor Podnar, Ljubljana, SLO
2012 SOFA, International Center of Graphic Arts, Ljubljana, SLO
2013 Galerija Gregor Podnar, LET GO, Ljubljana, Slovenija
> > > > > > > > > > > > > > > > > > > > > > > > > > > > > >
Rebecca La Marre & Jaakko Pallasvuo 'Full Disclosure'
15 October - 15 November 2013
READ MORE
'Full Disclosure' Interview

Based on your experience, how does it feel to become one, or more than two?

Rebecca La Marre with Jaakko Pallasvuo: When I think of two becoming one I am at first reminded of my early love of the Spice Girls, with the Biblical sense of the phrase floating around in the background.
The process of becoming one—as part of Full Disclosure—required a great deal of trust and negotiation; it was an experiment that was mutually entered into with, on my part, little thought about where it might take us both.* It also took a certain amount of commitment to sharing my experience of the process, and having to accept and stay with the parts that were uncomfortable. The project has probably been more successful than most of my romantic relationships in this sense. It also felt oddly sexual in the way the phrase "two become one" intimates, odd in a queer sense that involved my body but only to the extent that it was working and work can be pleasurable, and also odd because it was completely a-romantic.
The sexual component and the religious component are linked for me, and recently when Jaakko and I gave a lecture at Kingston University, without consulting each other we somehow both ended up talking about the way language interferes with communicating love—a theme that is very bound up with religious and mystic traditions, and more recently, linguistic theory.
I apprenticed under a shaman in Vancouver. I can say with the benefit of hindsight that even though the project was framed as a critical investigation or experiment, effectively Jaakko was asking me to use his energy. When this kind of exchange is unethical, or imbalanced in some way, it can be called a possession, so I was somewhat aware of the level of risk involved in his request. A shamanic view is that all relations are founded on some kind of agreement that in turn produces material conditions.
This is matched by the questions I was inquiring into about the way the Internet is talked about as something immaterial with no supposed connection to bodies. I also wanted to interrogate exactly how writing produces value for artists: what the relation is between a name, or a word, and the material existence of what that name is attached to, and how manipulating that relation produces effects.
The unfortunate outcome of our experiment, or game, is that we both applied to a residency that I was accepted to and Jaakko was not. I didn't find out that the selectors didn't believe in Jaakko's existence until I arrived, and it was too late to address the situation.
In effect, I was using Jaakko as a material in my practice and to extend my capabilities to exist in multiple places at once. I would make jokes about omnipotence and omnipresence, and the project conveniently made it look as though I was able to produce work at the speed of the Internet, which is physically impossible for one person who barely gets paid to do. I deeply suspect that our appetite for images on the Internet comes from the same impulse as the worship of religious icons and images.

* Full Disclosure was an online collaboration between Jaakko Pallasvuo and Rebecca La Marre, which existed on the Internet between July 29 and August 23, 2012. In a video diary, La Marre claimed to have been making work as Pallasvuo since 2011, and the artists' websites were interchanged.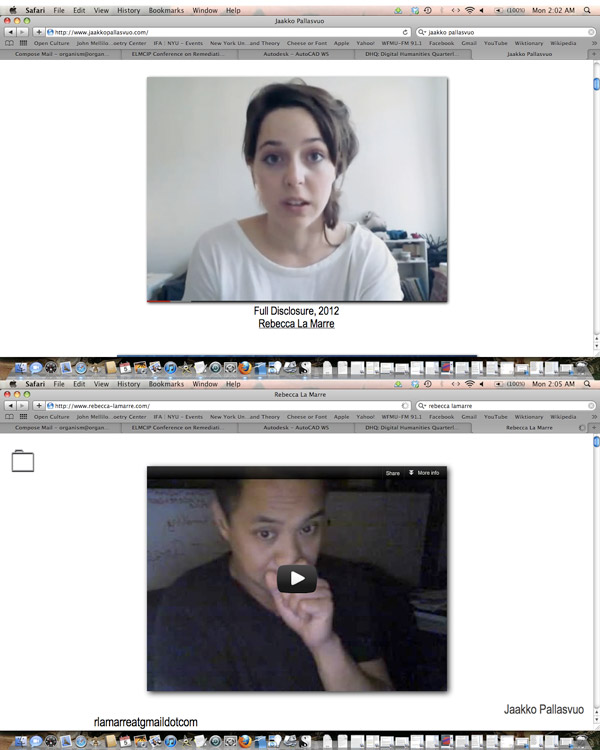 > > > > > > > > > > > > > > > > > > > > > > > > > > > > > >
Dawn Woolley 'Encounters' and 'Homo Bulla'
15 September - 15 October 2013
READ MORE
"My artistic practice encompasses photography, video, installation and performance. I use photographs of objects and people to question issues of artificiality and idealisation.
The artwork forms an enquiry into the act of looking and being looked at. Referring to psychoanalysis, phenomenology and feminism I examine my own experience of becoming an object of sight and also consider the experience the viewer has when looking at me as a female, and a photographic object. Voyeurism and exhibitionism intertwine as I attempt to disrupt relationships of power in purposefully provocative scenes."
> > > > > > > > > > > > > > > > > > > > > > > > > > > > > >
The Unstitute 'Radical Atheism: An Approach'
1 August - 15 September 2013

READ MORE
'Radical Atheism' is a virtual lecture series which constitutes a coordinated effort to dispense with the metaphysics underpinned by the existence of God. In this video, which is addressed to the atheist, three impediments to traditional atheism are highlighted which are essential to address in an approach to the position and the new necessity of a radical atheism.